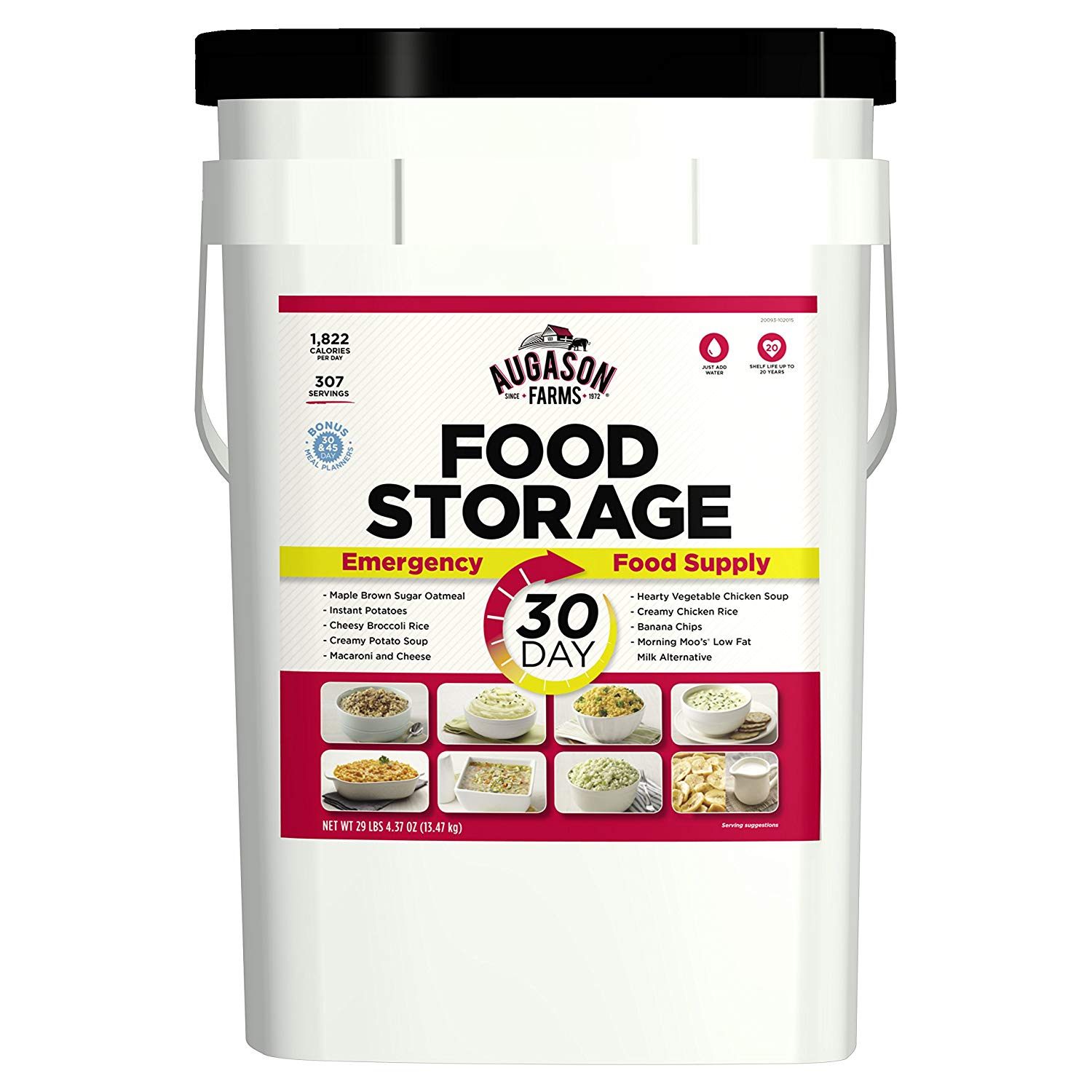 Augason Farms 30-Day Emergency Food Storage Review
Augason Farms 30-Day Emergency Food Storage Review
Sale
Every outdoorsman knows that one of the most crucial needs for survival is food. The problem is, it's challenging to find nutrition and sustenance in the wild, especially during disaster and emergency situations when resources are more dire.
That's where emergency food storages can get in handy. Today, we are going to talk about one such food storage pail, which is the Augason Farms 30-Day Emergency Food Storage.
Augason Farms 30-Day Emergency Food Storage
This food storage bin comes in a seven-gallon pail. It contains multiple food pouches that one can reheat and rehydrate to make it ready for eating. Interested in what those pouches are? Don't worry, we are going to list them down in detail below.
The Product Features (aka Meals Included)
As promised, here are the different meals you will find inside this food storage container:
Maple Brown Sugar Oatmeal: Want to take this oatmeal up to a notch? Top it with your favorite dried fruit.
Instant Potatoes: This can be served as a hearty snack or a side dish to the other meals included in this food storage bin.
Cheesy Broccoli Rice: Just add water as instructed and let it simmer for a bit.
Creamy Potato Soup: Don't underestimate the power of a hot bowl of creamy soup outdoors, especially in an environment of extremely cold temperatures. All you need to do is let the pack simmer and you're all set.
Macaroni and Cheese: An American classic, all you need to do is boil your macaroni until it's cooked to your preference (we prefer al dente), and just stir in the cheese sauce.
Hearty Vegetable Chicken Soup: As with the creamy potato soup earlier, it only takes your pack a little simmer for a hot bowl of vegetable chicken soup.
Creamy Chicken Flavored Rice: Add water and let it simmer for a hearty and satisfying meal.
Banana Chips: A children's favorite, but even adults can enjoy this tasty and crispy snack as well. Honestly, we prefer to top this on our oatmeal, but it's up to you.
Morning Moo's Low Fat Milk Alternative: This is a whey-based milk alternative but it tastes just like real fresh milk. You can serve this either warm or chilled.
Pros:
Easy to Prepare: As what we have detailed above, almost every meal included in this product is only a simmer away.
Comes with a 30- to 45-Day Meal Plan. Food storage containers like this can be very hard to ration, especially during emergency situations. Take the guesswork out of the game by following the 30-day meal plan that comes with this bin. Expecting to be staying out there half-a-month more? Then you can opt to use the 45-day meal plan instead.
Delicious: We've had more than enough of our fair share of MREs, so we understand how bland meal packs like this product could be. Surprisingly, Augason Farms' homecooked-tasting meals are a pleasant surprise.
Serves Three Meals a Day: There are a lot of different food storage options out there, but most of them cover only a single meal a day. This product, on the other hand, has your back for breakfast, lunch, and dinner (with dessert included!).
Long-Lasting: The product claims to stay fresh for twenty years so that you can stockpile these food storage containers for as much as you want without worrying that they would go stale any time soon.
Cons:
Good for One Person: Of course, you can ration this to share with another person in the family if the time comes and you have no choice, but it is not recommended. The nutritional value of each of the meals suggested in the meal plan is meant to sustain a single person for a month. Not following it would mean you won't be able to take advantage of the formulated nutritional value of these meals.
Meal Packets Come in Easy-to-Tear Wrappings: This can either be a good thing or a bad thing. We understand that having them packed as they are makes it easy for anyone to access the food inside, but it also makes them more prone to accidental tears and exposure.
Requires a total of 18 Gallons of Water: To prepare all the food in the pail, you must have at least 18 gallons of water in storage. This can prove problematic if you're down on water supply.
Requires Cooking: If you're looking for meal packs that you don't have to cook anymore or something that comes with its own heating and cooking mechanism, then you'll be disappointed with this product.
Summary
The Augason Farms 30-Day Emergency Food Storage contains a month's worth of meals for one person to eat three times a day. That's 37 food pouches to be divided into 307 servings of food, containing 54,670 total calories (or 1,822 calories per day).
The meals included are: maple brown sugar oatmeal, instant potatoes, cheesy broccoli rice, creamy potato soup, macaroni and cheese, hearty vegetable chicken soup, creamy chicken rice, banana chips, and Morning Moo's low fat milk alternative (that is whey-based).
To make sure you get the nutritional value intended, two meal plans are included with the storage: one for 30 days, and another one for 45 days should you need to extend your supply. It is important to keep in mind, though, that you would need a heat source, a pot, and 18 gallons of water in order to cook the meals included in the bin.
Augason Farms 30-Day Emergency Food Storage vs. The Essential Meal Assortment Food Bucket
Mountain House Essential Bucket
Quick prep! Just add water to the pouch and you're good to go in less than 10 minutes, with no cleanup!.
32 Servings.
Allergens: Soy, Milk, Wheat.
30 Year Taste Guarantee. Packaging May Vary.
Great for emergency food storage, camping trips, and RV expeditions.
A similar product that we have seen out there is the Essential Meal Assortment Food Bucket by the company, Mountain House. Like Augason Farms' product, this also comes in plastic container with meal packets individually packed inside.
Unlike the previous product, though, this bin only contains 32 servings or 12 total meals enough to feed a single person for three to four days. That's a huge difference.
The shelf life is extended, though, with a 30-year taste guarantee by the manufacturer. Another thing that we like about this product is that you won't need to cook the meals anymore.
All you need to do is add hot water into its meal packets and you're all set. Obviously, it would take less than the 18-gallon water requirement that the previous storage bin requires due to the smaller servings.
If you're going on a camping trip and you only expect to be there for a few days, then this is definitely what we'd recommend for you. However, if you're purchasing a food storage bin for long-term prepping, then Augason Farms' product would be the better choice.
The Verdict
In the end, as what we just mentioned, it will depend upon your needs. If you're going on a trip that would take less than a month, then the Augason Farms 30-Day Emergency Food Storage is not for you. That is, unless you will be sharing its contents with other people.
With that being said, if you're getting food storage bins for your prepper pantry, then we definitely recommend getting the Augason Farms 30-Day Emergency Food Storage. Not only does its shelf-life extends to up to two decades, it also comes with really delicious meals too!