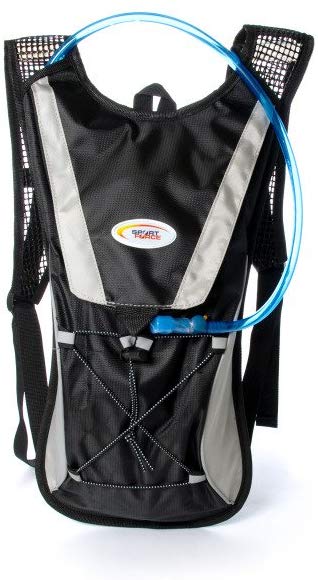 Sport Force Multi-Function Hydration Backpack Review
Have you been planning to go for an outdoor adventure with family and friends, but worried about what bag to bring? Good thing there are great outdoor backpacks, which combine style and functionality. The Sport Force Multi-Function Hydration Backpack is an ultimate choice, not only for its chic appeal but also for its functional hydration pack. Read on to check our review on this amazing hydration backpack!
Sport Force Multi-Function Hydration Backpack
Staying hydrated is probably one of the most important considerations whenever you go hiking, biking, backpacking, or performing other outdoor activities. This is the main reason why Sport Force come up with a multi-functional hydration backpack that's perfectly fitted for athletes and outdoorsmen. It is equipped with amazing features that make every adventure fun and exciting.
Features
Two Liter Water Bladder
This backpack is specially designed with a built-in two-liter water bladder to eliminate the need to carry heavy bottles when in the outdoors. It has an on and off valve to prevent any possible leakage.
The water bladder is guaranteed to be made with high-quality, BPA-free, and FDA-approved materials to ensure the safety of the users. Its production is secured by state-of-the-art technology and approved standard procedures.
Lightweight
The entire backpack unit, together with its accessories and inclusions, weigh less than one pound, light enough to be carried in extreme adventures. This makes it easier to carry and prevent the occurrence of any body-related injuries, such as back pain or shoulder spasm.
Adjustable Straps
This multi-functional backpack comes with adjustable straps on the shoulder, chest, and waist to ensure stability and prevent shaking whenever there is movement. The back and shoulder straps are made of breathable mesh air material for added comfort and coziness.
Functional and Stylish Design
The hydration backpack has multiple storage pockets and large compartments that can hold several accessories and necessities, including camera, mobile phone, whistles, keys, and even snacks.
Its high-quality material ensures safety and protection no matter what the weather condition may be. The reflective design also adds visibility, especially in dark and gloomy places.
Lastly, the Sport Force Multi-Function Hydration Backpack is available in different colors, such as black, blue, green, orange, and red, to fit your personality perfectly.
Satisfaction Guaranteed
The manufacturer offers a one-year limited warranty.
Pros
Multi-functional and durable backpack
Guaranteed leak-free
Adjustable straps
Multiple compartments and storage pockets
Lightweight
Available in multiple colors
Con
Lack of thermal insulation
Summary
The Sport Force Multi-Function Hydration Backpack is a durable and reliable bag that can keep an adequate supply of water on hand while you are enjoying the outdoors.
With its built-in water bladder, this backpack can hold up to two liters of water, enough to keep you hydrated during day hikes. No need to worry on leakage, as it is also equipped with a switch valve that helps reduce any water loss.
This stylish bag also comes with a stylish and functional design that can correctly hold and organize your essential stuff. You are guaranteed to stay comfortable throughout the entire trail as the Sport Force Multi-Function Hydration Backpack has lightweight structure and adjustable straps. These will fit your preferred set-up perfectly.
Despite its lack of thermal insulation, this hydration backpack is a perfect choice to stay hydrated and chic in every outdoor adventure that you make.
Comparing With Another Product
MIRACOL Hydration Backpack with 2L Water Bladder, Thermal Insulation Pack Keeps Liquid Cool up to 4 Hours, Prefect Outdoor Gear for Skiing, Running, Hiking, Cycling (Blue)
THERMAL INSULATION: Miracol Hydration Backpack keeps your fluids cool with the inside thermal insulation that lasts up to a duration of 4 hours. This is no doubt the best hydration pack for running, hiking, cycling, or biking.
HIGHLY DURABLE and LIGHTWEIGHT: This hydration pack features military-grade durability which will keep the content of your backpack safe while it weights only 1 pound, definitely won't burden you in outdoors.
MULTIPLE STORAGE COMPARTMENT: This hydration backpack has multiple pockets that give you all the space you need to store your various necessities. Whether it's an extra sweater, your cell phone or your keys as well, the differently sized pockets will suit all your storage needs perfectly as required.
REPLACEABLE 2L (68oz.) BLADDER: Comes with a built-in 2L bladder that will allow you to carry your water conveniently. The high quality bladder is made using EVA material and it's BPA-free, and with an extra-wide diameter of 3. 1 inches screw cap, which makes for easy pouring of water and putting ice inside.
PERFECT OUTDOOR GEAR: The adjustable shoulder/chest straps are comfortable and breathable. The Miracol hydration backpack is a great companion built for multipurpose activities. Best value on Amazon backed by a 100% Money back guarantee with no question. Click Add to Cart now!
The simplicity and functionality of Sport Force Multi-Function Hydration Backpack are highly comparable to Miracol Hydration Backpack. Both these hydration bags are equipped with features to make outdoor adventures fun and enjoyable.
You are guaranteed to stay hydrated and enjoy the outdoors with the Sport Force water bladder. The same goes with Miracol backpacks as it comes with a replaceable two-liter water bladder for convenient carrying of liquids. It is made with BPA-free and FDA-approved EVA material to ensure safety.
Additionally, it has a thermal insulation system to maintain the coolness of the liquid for up to four hours. The extra-wide diameter of the screw cap allows easy pouring of water and even putting of ice.
The storage capacity of Sport Force allows carrying of supplies and other necessities. Similarly, Miracol backpacks have multiple storage compartments and pockets to give ample space for storage and safe-keeping. These can fit in your mobile phone, keys, camera, and even an extra sweater. Also, they come in various sizes to hold items of different sizes perfectly.
Both the Sport Force and Miracol hydration backpack are highly durable and lightweight. While the Sport Force backpack is made with tear-proof material, the Miracol uses a military-grade to ensure the safety of its content no matter what is the situation of the outdoors.
With regards to style, both the Sport Force Multi-Function Hydration Backpack and Miracol Hydration Backpack are available in several colors that will perfectly fit your personality. They come in bright colors for easy visibility, even in hard to see areas.
The Sport Force backpack offers good warranty options to its users. This is also being offered to the Miracol backpack users as the manufacturer of this product give customers a 100% money-back guarantee.
Verdict
There is no doubt that these two products—the Sport Force Multi-Function Hydration Backpack and the Miracol Hydration Backpack, are great for outdoor activities.
Between these two, the Sport Force is a better option if you are after comfort and breathability, especially with the straps. Its structure allows your shoulder to move freely and relaxed without worrying on causing any injury.
However, if you want to keep your water cool for a longer time, then you can opt to have the Miracol Hydration Backpack due to its thermal insulation system. This will guarantee quench-thirsting liquids, especially during a hot summer walk.
Whichever hydration backpack you choose, you are guaranteed to have a perfect companion. These are not only built for multi-purpose activities but also to add style and appeal to every outdoor activity that you plan to do.