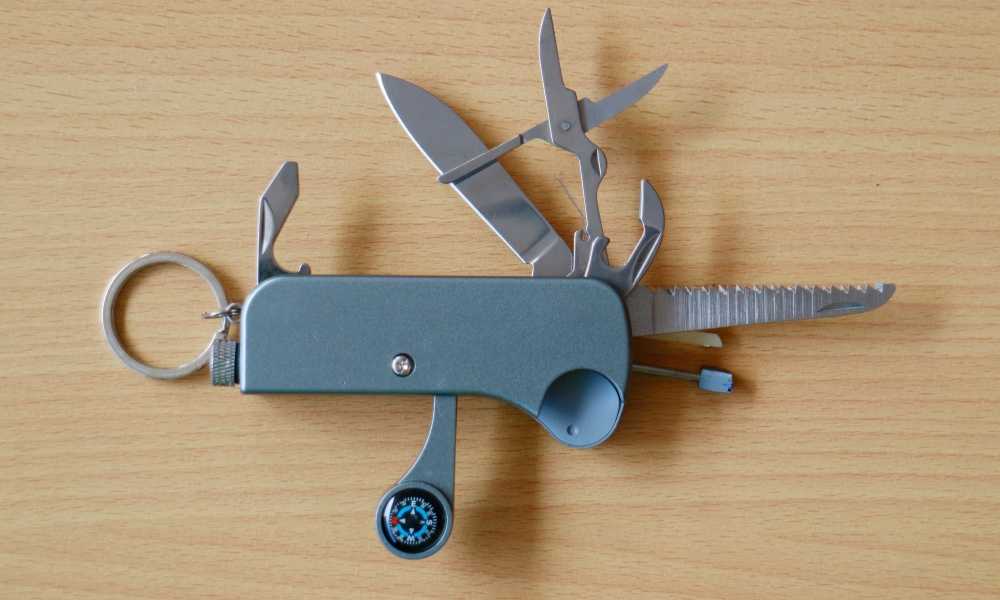 Gerber 7-in-1 Keychain Tool Review
When it comes to dealing with surprises and solving problems, it pays to come prepared. Sadly, it's hard to always have the right tool for the job because you can't carry your toolbox on your hip or keychain. What will you do if you need to crack open a cold one, tighten a loose screw, or pry open a stubborn paint can?

Multitools are versatile tools that offer a variety of uses in a smaller and more portable form. Keeping a high-quality keychain tool like the Gerber 7-in-1 around means you'll be prepared for a variety of everyday problems.
Gerber 7-in-1 Keychain Tool Review
Great things come in small packages, and the Gerber 7-in-1 Keychain Tool is no exception. The sturdy, versatile, and portable multitool was made to make it easy to be prepared for tasks where you don't have access to a tool set. From on the road to your local bar, it has something for many common problems you'll come across. Featuring 7 different tools and a ton of ways to use them all, the Gerber 7-in-1 Keychain Tool should be a staple on keychains everywhere.
Who is this product for?
With versatility being one of the Gerber 7-in-1 Keychain Tool's selling points, the ideal user for it would be anyone who wants quick and easy access to common tools without a toolbelt. While its uses are slightly different from a swiss army knife, the combination of the 2 multitools should have you prepared for most daily problems that require something more than your hands.
Unfortunately, despite offering 7 different tools the potential uses for the Gerber 7-in-1 Keychain Tool are a bit too concentrated towards less common tasks. The bottle opener and wire stripper are very niche, which may take away from the potential viability for certain users.
What's included?
Included with the Gerber 7-in-1 Keychain Tool product is simply the keychain tool itself. There is no lanyard or keychain included to hold it, but the tool has holes for mounting it to your keychain or existing lanyard.
Features
The Gerber 7-in-1 Keychain Tool is a portable (3.1" x 1.3" x .6") multitool made of a sturdy stainless steel which helps it to stand up to heavy prying and screwing. It is coated with an additional titanium nitrate layer to resist rusting and corrosion so that it can last on your keychain for years to come. It comes with a lifetime warranty so you can be confident in your purchase, and is airline safe so you can keep it with you everywhere you go.
The tool has 7 different tools on it, which includes a lanyard hole for your keychain, lanyard or other portable holder. You'll also find 2 flathead drivers (one small, one medium) and a Phillips screwdriver for any screwing jobs. The pry bar allows you to open things like paint cans, remove nailed wood and more, while the wire stripper will come in handy if you find yourself doing some impromptu electric or wire working. Finally, the bottle opener will come in handy at parties or when you relax at home with a cold one.
How to use
Depending on the feature you plan to use on the tool, the way you'll use it varies. However, despite it being a 7-in-1 tool, you can simply use it as if you had a single tool. Angle the screwdriver heads towards screws, stick the pry bar under something, and lift off a bottle cap with a little flick of the wrist. You can likely even leave it on your lanyard or keychain while you use it to make use even simpler.
Alternatives
With the Gerber 7-in-1 Keychain Tool's features being a little concentrated and niche, a multitool that can do a wider variety of different tasks would be an alternative to consider if they fit your needs more closely.
Also from Gerber, the Gerber Dime Multitool offers 10 tools as opposed to the 7 offered by this product while including a wider array of uses like a blade, pliers, a file, tweezers, and the same screwdriver features offered by the Gerber 7-in-1 Keychain Tool. This adds Swiss army knife functionality on top of the multitool's, creating a more complete tool.
Conclusion
If you find yourself needing a screwdriver, bottle opener, or pry bar often, this multitool should solve most of your problems without issue. While the potential uses are a bit specific with the Gerber 7-in-1 Keychain Tool, it is strong, reliable, and great at what is does. Ideally, you would combine this keychain tool with another tool like a utility knife that allows you to expand what you can do without needing a full set of tools.
When it comes to value and reliability, the Gerber 7-in-1 Keychain Tool is great option for those who can benefit from its included tools.