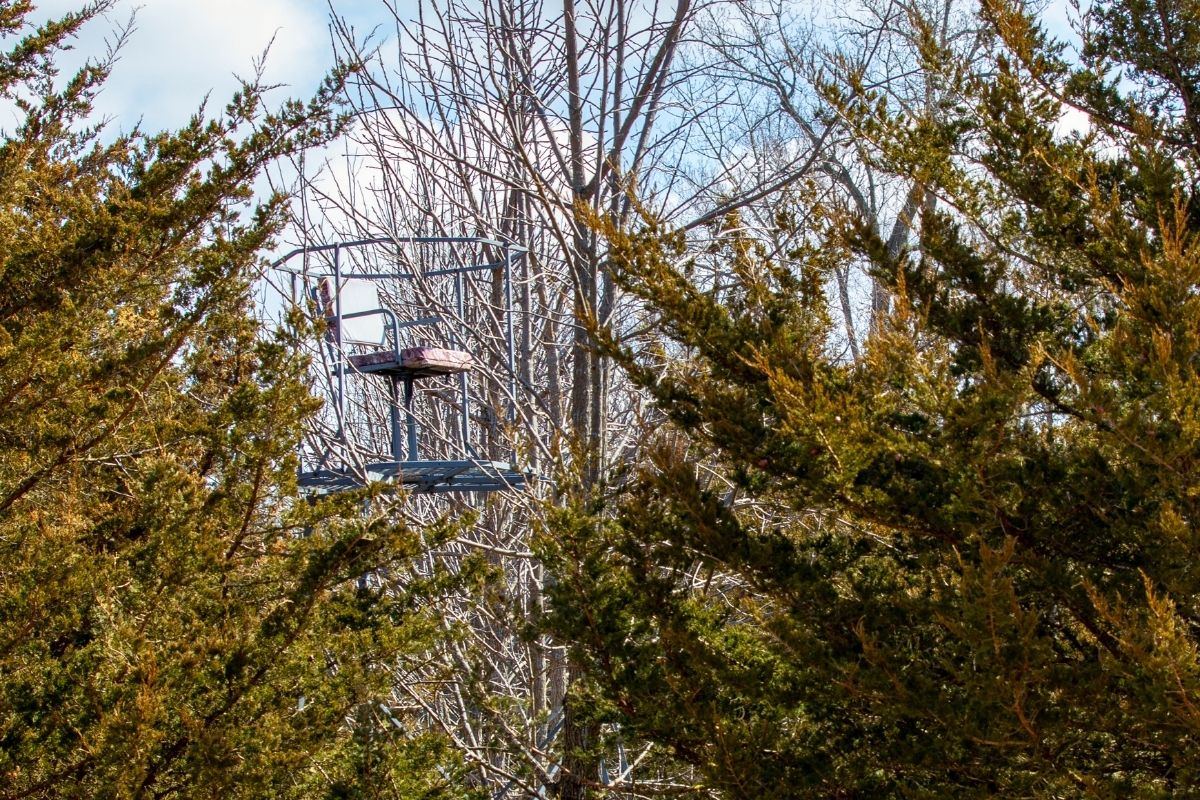 Lone Wolf Hand Climber Combo II Review
This state-of-the-art hand climber, is perfect for those difficult trees. This climbing tree stand this perfect bird watching, hunting, things like that. The lone wolf climbing tree stand is also equipped with The ability to folded down into five inches  and be worn as a backpack due to the straps that are attached.
This makes the device much easier to carry for long periods of time. Described as both lightweight and full-featured, this is a proven performer within a climbing tree community. This is manufactured, assembled, packaged and shipped in the USA. Lone Wolf is one of the industry leaders in both portable tree stands and accessories. 
Designed with practicality in mind, the seat is padded for comfort both when sitting and when climbing. The seat and the climbing base are both detectable to assist you when you're hooking it up to the tree. This climber so super light, gone are the days of lugging around heavy hunting materials, cause this weights in at about 17.5 pounds (7.94 kg)! This also folds up as flat as a book, this make for ideally use, especially when lugging it around. 
The Lone wolf hand climber combo is perfect for hunting season, especially if you're into public land hunting. If you are looking a perfect tree climber, this might be the one for you. Here, I will inform you of the all the things you need to know before purchasing.
Now, this is on the more expensive side, due to the popularity with the public and private land hunter community. Personally, I would rather invest more money in one that I know will keep me safe, especially if the equipment is expected to hold me 20ft (6.1 m) high in a tree!     
Easy to use, easy to set up! This climber is ready to take your hunting to the next level!
Features
Easy to set up – being both light in weight and foldable, the tree climber is not full of excess material, only what you need.

Light to carry-due to it being only weighing 17.5 pounds (7.94 kg) and when folded down to 5 inches (12.7 centimeters).

Backpack straps – easy to carry.

Foam-padded seat – this makes for a comfortable climb and seat. 

Cam-action system—this also secures your camera while being easy to open to help with recording.

The climbing stand also has stabilizer straps to keep the seat from moving around.

The traction belt contains stainless steel reinforcement for that added level of support. 

Also includes a six point fall arrest harness system.

The climbing stand is made up of a cast aluminum, for a more sturdy structure which is quite durable.

The climbing stand has a light gray matte finish, this is good due to the non-reflective nature which will prevent potential glare.

The framing that hold the tree belt, both the bottom and the top are made up of aluminum. 

There is absolutely no noise when the two pieces contact one another, perfect for a quick and quiet assemble.
Lone Wolf Hand Climber Combo II Climbing Tree Stand
Lightweight and full-featured; A proven performer among climbing treestands
Fits trees 6" - 19" in diameter; Contoured foam seat pad gives all-day comfort
Folds down to 5-inch packed profile; Great for packing into even the thickest areas
Features the full-sized 30" x 19.5" platform with loads of room
Weighs in at only 17.5 pounds with a 350-pound weight limit
Dimensions
The platform size is 30" X 19.5", the weight holding ability is around the 350 pound (ca. 159 kilogram) mark, but I always recommend testing before climbing.
The actual padded seat is 14" X 12". The folded size of their climber is 5 inched, and it weights around 17.5 pounds (7.94 kg). The tree belt can fit around a tree with the diameter of 9-19 inches.   
Comfort
Personally, I do not expect my tree seats to be the level of comfort requires putting me asleep, perhaps for the best. This design is focused around optimizing those tight spaces that you wouldn't think you'd be able to pack into. Due to this, there is not much room for much else. The seat is small in size and padded, which is unusual for tree seats.
The foot stand is also small in size, but this to be expected, the option to stand is still available though, especially if you want to stand. While I read reviews, I found that if you are using this stand or archery, it is a little difficult to aim and throw. You are able to spin around with ease while aiming, which is perfect.
Also, due to the small size of the stand, it may be more difficult to move around if you are on the larger foot size. 
Pros:
Extremely lightweight-

due to the compact packing, I found this product to be extremely light and easy to carry, this was mainly due to its small size and backpack straps.
Packs very compact—

foldable and adjustable makes for this device extremely compact, makes for more room in the truck! 

Non-reflective finish—

the non-reflective nature of the hand climber helps assist with hunting, this will also help you camouflage into your surroundings. 
Cons:
Uncomfortable backpack straps –

even though the backpack straps are the unique selling point for this item, they do hurt, it is to be expected.

The foot platform may collapse if not properly installed—

please, please, make sure you are educating yourself in how to properly set up this device. If not properly installed it cannot stay upright, and you could seriously injure yourself.
Frequently Asked Questions
What is the Lightest Climbing Treestand?
The lightest climbing treestand is the X-1, which has been engineered out of 6061 T6 Aircraft aluminum. The X-1 is equipped to be stable. The X-1 seats and foot platform are paired up well and lay flat against each other, which makes for easy packaging. 
How Much Does a Lone Wolf Hand Climber Weight?
Seat measures 13 inches (33.02 centimeters) X 16 inches (40.64 centimeters) and weighs 4 pounds (1.81 kilogram) & 5.6 ounces (0.21 kilogram).
Does the Unit Come Pre-assembled and Ready to Climb?
No, there is not much to assemble, the straps, climbing cables and cushions are separate but are rather simple to attach. Once they are attached, you are ready to climb.
Does It Have Arm Rest or Anything?
No, this stand does not contain an arm rest. You have to place your arms on the seat and use your feet to climb with the stand. You have to hold your weight in your forearms while dragging the bottom up with your feet. I recommend looking on YouTube for videos for some visual demonstrations. 
What Diameters can the Lone Wolf Hand Climber Go Up to?
The tree belt can fit around a tree with the diameter of 9-19 inches.  If you are unsure, always do a tester before climbing to ensure your safety. 
Is the Lone Wolf Hand Climber safe?
Of course, if the stand it properly attached it is completely safe, always inform yourself on how to use prior to hunting. 
Overall
Overall, I would recommend this climber to anyone who requires mobility in the hunting kit. It is lightweight and easy to use, it packs compact, and it is able to disguise itself well in the Forrest.
While it is on the pricey side on tree stands, it is worth the splurge. The Lone Wolf Hand Climber Combo II, overall, an investment to any all-American hunting man.